NATURAL PEST CONTROL WITH GALENDROMUS OCCIDENTALIS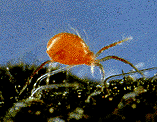 Spider Mite Control - Phytoseiulus persimilis, Mesoseiulus longipes, Neoseiulus californicus, Galendromus occidentalis

Spider mite larvae, nymphs and adults feed on the underside of the leaves and cause yellow spots, later even yellow leaves. This results in decreased plant growth and production. Finally the crop may die from the infestation. Nymphs and adults produce webbing that can cause cosmetic damage to the crop. If large numbers of spider mites are present, plants may be completely covered with webs.
CONTROLLING RED SPIDER MITES WITH PREDATORY MITES

Two-spotted spider mites and many others are the target food of P. persimilis, which will consume 5-10 pest adults or up to 20 pest eggs a day. This predator mite which comes from the sub-tropical regions is a lively shiny mite with a pinkish red color and has obvious long legs. When released during a low infestation, spider mites can be controlled within 2-3 weeks. P. persimilis need a relative humidity greater then 60% in order to survive, especially in the egg stage. Persimilis are most effective at tempertures ranging from 50 to 90 degrees F, but does best where tempertures remain below 85 degrees F. Once the adults' food supply dwindles, P. persimilis die. If reinfestation occurs, P. persimilis must be reintroduced, preferabley every 3-5 weeks, or in combination with either, G. occi

Release rates:
- For tomatoes and cucumbers, 1 predator per plant plus 1-2 per infested leaf.
- For other greenhouse crops, tropical plants, and outdoor gardens, 2,000 per 3,000 sq. ft.
- For bedding plants, 1,000 per 10,000 sq. ft.
- For large agri-business, 5,000 - 20,000 per acre depending on infestation.

Galendromus occidentalis is a very versatile mite predator and tolerates high temperatures and high humidity (60-85%) well, both indoors and out. Use G. occidentalis to control spider mites, two spotted mites, Russet mites, and others on gardens, greenhouses, and orchards of all types. Adults eat 1-3 pest adults or up to 6 pest eggs/day. Release rates indoors, 2-3/sq. ft. bi-weekly, 1-2 applications; outdoors, 5,000-20,000/acre, bi-weekly, 1-2 applications.

Although Neoseiulus californicus predatory mites consume their prey at a more leisurely pace than do their friends Mesoseiulus longipes and Phytoseiulus persimilis, one adult or a few eggs per day, they can survive longer under starvation conditions and can also live on a diet of pollen. In plants where it is very hard to detect the first spider mites, Californicus may be introduced preventatively, even if no spider mites have been found yet. N. californicus need a minimum of 60% humidity and ideal temperatures 60-85 degrees F. Can tolerate temperatures up to 95 degrees F. Release rates 4 mites/sq. ft, bi-weekly, 1-2 times; 5,000-20,000/acre, bi-weekly, 1-2 times. Works great in gardens and greenhouses.

Mesoseiulus longipes is similar to P. persimilis but can tolerate lower humidity (40% at 70 degrees F). M. longipes are effective in temperatures up to 100 degrees F, although a comparable increase in humidity is required. Apply these predators in warm greenhouses and interiorscapes with artificial lighting. The lifespan of the adults, the form in which they are shipped, is 34 days. Release rates indoors, 3/sq. ft. bi-weekly, 1-2 times; outdoors, 5,000-20,000/acre, bi-weekly, 1-2 times.